As per suggestion of one of my readers (thanks Snuffles!), I would like to share with you, my culinary roots. Just in case some of you wonder, "Where does she come up with this stuff?" These are the people who are my culinary heroes, my inspiration, and mentors:
My Grandmoth
er: My original inspiration. I grew up in her home until I was a teenager. She loved to cook, and although her cuisine was mostly Mexican, she would get creative in subtle ways. As a child I followed the good kitchen smells to the source, and became so intrigued and wond
ered how I could do the same thing. She took me under her wing, and taught me many of the fundamentals I still use today. She even brought some of her cooking frie
nds over and they all taught m
e how to make tamales from start to finish (which is hard work by the way!). Unfortunately her increasing age decreased her mobility, so she rarely cooked towards the end of her life. Before she passed, I was still able to serve her everything she taught me. I still keep a copy of an older than dirt cookbook she gave me, and some of my most treasured recipes come from it.
Julia Child: I do love my late grandmother to no e
nd, bu
t Julia Child als
o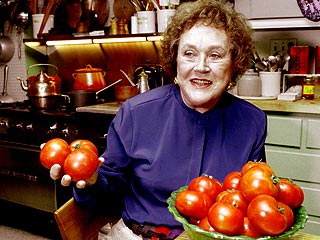 influenced me in my youth. I considered her to be the ultimate grandma
a
nd somewhat fictional. I didn't get to experi
ence cable TV until college, so publ
ic television cooking shows were t
he on
ly culinary inspiration available to me.
I always thought her voice was a bit of a nuisance, but the lady always knew what she was talking about, and it showed!
Jacques Pe
pin: Some people might not even know who he is, but he used to be on public television as well. A soft-spoken French chef with the heavies
t accent I've ever heard. I enjoyed how he made the concept of French cuisine more humbled and down to earth. If it wasn't for his teachings, I would still think that French food is ridiculously pretentious. I gained a firm understan
ding about technique and history from him, and also
opened my eyes to some flavors previously unknown to me.

Duff Goldman: The Ace
of Cakes guy. I really admire Duff, because I feel
like if I owned or worked in a bakery, I would be just like the staff at Charm City Cakes. Seeing them erases my previous notions of stuffy old ladies working in cake boutiques. I'm a puck rock fan, and I love to find the humor in even the most adverse situations. I also have an undying appreciation for how Duff has no limits. He is so innovative with his cake decorating, that he really raised the bar for cake shops around the country - and the world. Although
I'm not the biggest fan of cake fondant in terms of flavor, it's a nice cosmetic touch…but that's just the tip of the iceberg for Duff.
Alton Brown: The original food nerd. I admire him in similar fashion as Duff. I can relate to his per
sonality being a fellow nerd myself, haha! He takes cooking to another level by telling us the why's and how's about cooking techniques, hardware, and the variations of food themselves. In school I always had know why or how some
thi
ng oc
curs. Don't expect me to really learn anything of you simply tell me, "Well, that's just how it is," because I'm not buying it. Alton answers so many of my culinary questions that no else can. He really is my culinary encyclopedia.
Paula Deen: As a fellow woman of the South, I've gotta tip my hat to the
"Butter Queen." Sometimes the health craze can be a drag, and I think comfor
t foo
d is a necessary part of life. Besides, what do you look forward to when you go home for the holidays or any special occasion? All that rib-sticking food and good people, that's what! She's an hero and inspiration to me because she keeps it casual and lively. After all, one of the main ideas behind cooking is to bring people together and have a good time. I like to keep my cooking the same way; casual, fun, and full of satisfying flavors. I know plenty of people with larger than life appetites, and I can't serve them rice cakes and tofu.
Last, but certainly not least, my taste tester (guinea pig) friends and my better half. My boyfriend of over 6 years (his name is Mike), whom I guess could be considered my unofficial husband at this point, is perhaps one of my biggest inspirations. I always enjoy the challenge of catering to his finicky tastes, and my success rate is very high. I even get him to open his eyes to new foods, which always gives me a sense of fulfillment. He's also been a cheerleader of sorts, always encouraging me to embrace and expand my talents. My friends are always ready and willing to sample my latest creations, and I appreciate and enjoy their insights, suggestions, and recommendations.
All of these people are what make me stay in the kitchen and stay creative. If it wasn't for them, I really don't know where my life would be…I honestly can't imagine another way of living!